What do jewelry, rocket nozzles, and brake parts have in common?
They're all being 3D-printed at Neighborhood 91, the world's first co-located advanced manufacturing (AM) campus, located at Pittsburgh International Airport.
On Oct. 24, CREW Pittsburgh (Commercial Real Estate Women) hosted a panel on all things Neighborhood 91, detailing the project from its initial concept to where it is today and what the future holds. The discussion was moderated by Gregg Broujos, senior vice president of leasing for The Buncher Company, master developer for the project.
"If you draw a circle within a 100-mile radius, you'll see every part of the additive manufacturing ecosystem," said Jen Coyne, director of programs for The Barnes Global Advisors, which serves as strategic consultants for the project. "But they don't know each other. They don't work together. So, how can we connect them? How can we bring them together?"
Neighborhood 91 was the answer, condensing and co-locating companies into one location so they can work faster, smoother and at a lower cost. What used to take six months, now takes a few weeks, Coyne said: "What used to fly 1,000 miles can now stay in the same building."
Perfect spot
David Storer, Director, Business and Commercial Development for ACAA shared the backstory of the project, as then-University of Pittsburgh Chancellor Patrick Gallagher, ACAA CEO Christina Cassotis and County Executive Rich Fitzgerald worked to bring it to life in late 2018.
The airport had 195 acres close to the highway, and nearby cargo facilities to ship parts easily. It was the perfect place for an AM cluster, he said. By October 2019, the project was assembled and announced at a press conference, with many of the founding partners present.
Shortly after breaking ground, Pittsburgh-based Fortune 500 company Wabtec became the anchor tenant of Neighborhood 91 in 2021. (Photo by Jason Cohn)
After officially breaking ground, in 2021, Pittsburgh-based Wabtec, the Fortune 500 rail technology company whose roots trace back to famed entrepreneur and inventor George Westinghouse, became the anchor tenant in the middle of the COVID-19 pandemic.
In fact, the airport location helped solve many supply chain woes the pandemic caused.
"During the pandemic, we did not slow down," Storer said. "We were already well-funded. The state was very supportive, contributing $30 million to improve the land for this project."
PennDOT also contributed a multi-modal grant to connect the highway exit to Clinton Road, where the campus sits.
"We went from idea to reality in the span of three years," added Meghan Cox, ACAA's Vice President, Corporate & Government Relations.
Pittsburgh reinvention
Coyne, formerly of Wabtec, said Neighborhood 91 is not only about bringing advanced manufacturing to the region, but also economic and workforce development. Every manufacturing job creates an additional seven indirect jobs in the community, she said.
Cox acknowledged that the airport took a risk with the project but added that "no city other than Pittsburgh is so willing to reinvent itself. It has that angle of wanting to be part of something new."
It also builds upon the city's strong history of manufacturing, specifically in metals, which are frequently used in additive manufacturing. The nearby universities are also a great resource for recruiting, Cox said.
Neighborhood 91 works because it's a true neighborhood, akin to residents bartering and trading and working in a friendly way. Tenants share services and costly world- class equipment, like the recently unveiled Japanese JEOL electron beam printer.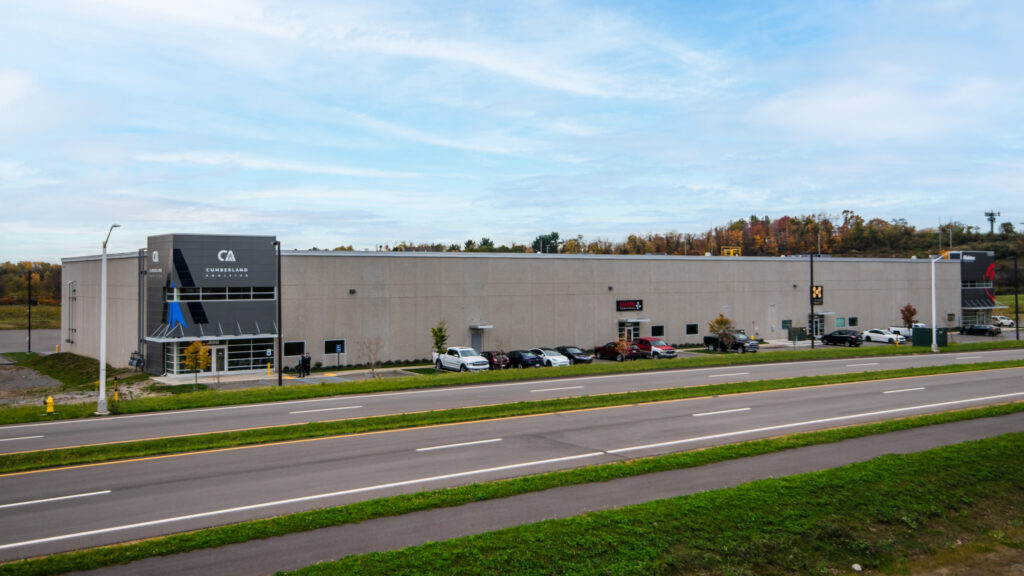 Neighborhood 91's proximity to PIT allows for expedited shipping, receiving and hosting customers. Parts manufactured on site can be shipped via PIT to anywhere in the world within 24 hours. (Photo by Beth Hollerich)
The proximity to the airport creates the perfect ecosystem for shipping, receiving and hosting customers. Executives can fly in for just the day to see production and visit clients, and it's easy for tenants to ship parts anywhere in the world within 24 hours from nearby FedEx and UPS.
Neighborhood 91 tenants also will be able to take advantage of PIT's on-site childcare center and recruit workers once PIT's training program, PIT2Work, expands to additive manufacturing.
Besides Wabtec—which uses 3D printing to support production of more than 100,000 freight and transit AM production parts deployed on their products worldwide—other tenants include Metal Powder Works, which uses a cleaner, more sustainable way of making metal powders; HAMR Industries, which applies advanced materials and manufacturing techniques to solve problems in challenging environments; and Cumberland Additive, which 3D prints for the airspace, defense and oil and gas industries.
What's next?
While the first building of the first phase is complete, ACAA is planning to build on the remaining two pads in Phase 1 and is already making on-site improvements for Phase 2 of the campus. Storer notes that every prospective tenant's needs are different; not everyone requires a 30-foot ceiling or a loading dock.
"The long-term vision is to fully develop all 195 acres and have a town center with lots of amenities," he said. "Thousands of homes are planned for the airport corridor that will be able to take advantage of this town center as well. We want it to have the feel of a true community instead of an office park."
Cox added that her team is focusing on supporting AM legislation in Harrisburg that would incentivize start-up companies.
"We have an eye on strategic growth and we all play a part in what that next chapter looks like," she said.